If you are having trouble viewing this newsletter, click here
40% Off SUMMER! Back Issues Codeword Sale Extended
Howdy!
I will begin today by mentioning that I received the happy news this morning that I am (hopefully) going to blessed with a granddaughter somewhere near Christmas. That joyful news really made me happy, as I believe that children are truly a blessing. I can't wait to finally meet her!
As regards my life here at Mile High Comics, everything is going incredibly smoothly right now. Lynne, Gordon, and Noah are catching up our order backlog, with current predictions being that it will be totally wiped out by the middle of next week. That is very good news, as being current gives me free rein to extend our very popular 40% off SUMMER! codeword sale for you for another couple of weeks. That very generous sale applies to all ten million+ of our back issue comics and magazines, excepting only new issues, a few variants, and our professionally-graded issues. Enjoy!
On a side note, those of you who read this newsletter are very fortunate right now, as we are not advertising our 40% off SUMMER! codeword sale anywhere on the Internet. As a direct result, over half of the orders that we are receiving from our website right now are at full price, with no discount taken. Suffice it to say, receiving a 40% discount really makes quite a difference when your total end cost is calculated. Just saying…
On another side note, we are buying more comics, books, and toys right now than at any time in our 50-year history. During just the past two weeks, Pam, Will, Lisa, and I have purchased over 50,000! individual items, including such awesome back issues as WEREWOLF BY NIGHT (1972) #32, GIANT-SIZE X-MEN #1, SANDMAN #1 and #8, and many, many more key issues. Pam is also still being contacted on a daily basis by a multitude of fans from around the nation asking for pre-paid shipping labels, so that they can ship their comics and books in to us at no charge to them. She can be reached via pamb@milehighcomics.com.
All of the above having been said, if you have a collection that you are considering selling, do it now. As in immediately. I am most certainly not a government economist, but I can read the handwriting on the wall. Things with our economy are already bad, but I think that they are about to get much worse. Whenever that happens, a certain percentage of our clientele find themselves in financial difficulties, and have to sell their collections. We are going to be willing buyers for the foreseeable future, as I have a fervent belief in the long term future values of all collectibles, and of back issue comics, in particular. In the near term, however, buying prices will probably drop for a while as the market gets glutted by a mass of product being liquidated by those needing to sell. Simply put, either sell now, or plan to hold on for 3-5 years, which is when (if all goes well) the market should recover nicely.
As regards buying, take advantage of as many deals as you can right now, as I am predicting that availability of back issues is about to take a huge hit. Simply put, I foresee hundreds (if not thousands…) of comics retailers going out of business over the next twelve months. While that primary market disconnect is going to inject a huge oversupply of back issues into the secondary market, there will be no one left in business with the savvy to sort and price them in an economically viable manner. Much irony is dripping…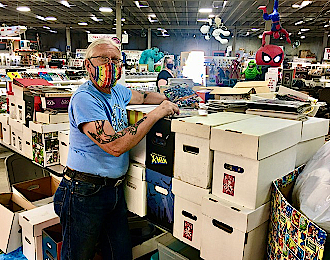 Chuck with some of our recent purchases
I will close by stating flat-out that we are doing really well right now, both in terms of gross sales, and net earnings. We are keeping our costs low, and will lower them even further if business recedes. Thanks to the fact that we own our immense building, have no debt except our mortgage, and that we also own (outright) over ten million+ back issue comics and books, we are in a perfect position to survive the coming storm. No matter what manner of hell transpires over this winter, Mile High Comics will absolutely be here to help you to safely traverse this calamity.
Happy collecting!
Chuck Rozanski/Bettie Pages,
President – Mile High Comics, Inc.
July 31, 2020
P.S. Below are just a few of the great comics and magazines that we have purchased this week. The SUMMER! codeword drops most of the list prices by 40%. Woo!
MARVEL

ALPHA FLIGHT (1983) (#1-130) #51
ALPHA FLIGHT (1983) (#1-130) #51 Very Fine
ALPHA FLIGHT (1983) (#1-130) #74 NEWSSTAND Near Mint/Mint
ALPHA FLIGHT (1983) (#1-130) #75 NEWSSTAND Very Fine
ALPHA FLIGHT (1983) (#1-130) #78 NEWSSTAND Near Mint/Mint
ALPHA FLIGHT (1983) (#1-130) #81 NEWSSTAND Very Fine
ALPHA FLIGHT (1983) (#1-130) #86 NEWSSTAND Very Fine
ALPHA FLIGHT (1983) (#1-130) #87 Near Mint/Mint
ALPHA FLIGHT (1983) (#1-130) #88 NEWSSTAND Near Mint/Mint
ALPHA FLIGHT (1983) (#1-130) #90 Very Fine
ALPHA FLIGHT (1983) (#1-130) #90 Near Mint/Mint
ALPHA FLIGHT (1983) (#1-130) #106 Very Fine
ALPHA FLIGHT (1983) (#1-130) #107 Near Mint/Mint
ALPHA FLIGHT (1983) (#1-130) #128 Near Mint/Mint
ALPHA FLIGHT (1983) (#1-130) #130 Fine
AMAZING SPIDER-MAN (1999) (#1-58, #500-700.5) (MARVEL) #539 Very Fine
AMAZING SPIDER-MAN (1999) (#1-58, #500-700.5) (MARVEL) #700 2ND PRINT Fine
ASTONISHING X-MEN (2004) (#1-68) (MARVEL)(JOSS WHENDON) #3 Near Mint/Mint
BEAVIS & BUTT-HEAD (1994) #1 Near Mint/Mint
BLACK KNIGHT (1990) (#1-4) (MARVEL) #1 NEWSSTAND Near Mint/Mint
BLACK PANTHER (1998) (#1-62) (MARVEL) #1 Near Mint/Mint
BLACK PANTHER (1998) (#1-62) (MARVEL) #2 VARIANT Near Mint/Mint

BLACK PANTHER (1998) (#1-62) (MARVEL) #4
BLACK PANTHER (1998) (#1-62) (MARVEL) #4 Very Fine
BLACK PANTHER (1998) (#1-62) (MARVEL) #10 Near Mint/Mint
BLACK PANTHER (1998) (#1-62) (MARVEL) #18 Fine
BLACK PANTHER (1998) (#1-62) (MARVEL) #22 Near Mint/Mint
BLACK PANTHER (1998) (#1-62) (MARVEL) #23 Near Mint/Mint
BLACK PANTHER (2005) (#1-41) (MARVEL) #23 Very Fine
BLACK PANTHER (2005) (#1-41) (MARVEL) #24 Near Mint/Mint
BLACK PANTHER (2005) (#1-41) (MARVEL) #25 Fine
BLACK PANTHER (2009) (#1-12 & #513-529) (MARVEL) #1 Near Mint/Mint
BLACK PANTHER: PANTHER'S PREY (1991) #1 NEWSSTAND Near Mint/Mint
BLACK PANTHER: PANTHER'S PREY (1991) #2 NEWSSTAND Near Mint/Mint
BLACK WIDOW (1999) (#1-3) (MARVEL) #2 Near Mint/Mint
BULLSEYE: GREATEST HITS (2004) #5 Near Mint/Mint
CAPTAIN AMERICA (1968) (#100-454) (MARVEL) #171 Fine
CAPTAIN AMERICA (1968) (#100-454) (MARVEL) #193 Very Good
CAPTAIN AMERICA (1968) (#100-454) (MARVEL) #276 NEWSSTAND Very Good
CAPTAIN AMERICA (1968) (#100-454) (MARVEL) #282 NEWSSTAND Very Good
CAPTAIN AMERICA (1968) (#100-454) (MARVEL) #332 Fine
CAPTAIN AMERICA (1968) (#100-454) (MARVEL) #350 Very Fine

CAPTAIN AMERICA (1968) (#100-454) (MARVEL) #383
CAPTAIN AMERICA (1968) (#100-454) (MARVEL) #383 Near Mint/Mint
CAPTAIN AMERICA (1968) (#100-454) (MARVEL) #440 Near Mint/Mint
CAPTAIN AMERICA (1968) (#100-454) (MARVEL) #454 Very Fine
CAPTAIN AMERICA (2004) (#1-50, 600-619) (MARVEL) #23 Near Mint/Mint
CAPTAIN AMERICA (2004) (#1-50, 600-619) (MARVEL) #24 Near Mint/Mint
CAPTAIN AMERICA (2004) (#1-50, 600-619) (MARVEL) #25 DIRECT CUT Near Mint/Mint
CAPTAIN AMERICA (2004) (#1-50, 600-619) (MARVEL) #34 VARIANT Fine
CAPTAIN AMERICA (2004) (#1-50, 600-619) (MARVEL) #47 Near Mint/Mint
CAPTAIN MARVEL (1968) (#1-62) (MARVEL) #32 Very Good
CAPTAIN MARVEL (1968) (#1-62) (MARVEL) #33 Fine
CAPTAIN MARVEL (1968) (#1-62) (MARVEL) #34 Very Good
CAPTAIN MARVEL (1968) (#1-62) (MARVEL) #56 Very Fine
CAPTAIN MARVEL (1968) (#1-62) (MARVEL) #60 Fine
CAPTAIN MARVEL (1968) (#1-62) (MARVEL) #61 Fine
CAPTAIN MARVEL (1968) (#1-62) (MARVEL) #62 Fine
CAPTAIN MARVEL (1989) (#1) (GIANT-SIZE SPECIAL) (MV) #1 Very Fine
CAPTAIN MARVEL (2002) (#1-25) (MARVEL) #16 Near Mint/Mint
CAPTAIN MARVEL (2002) (#1-25) (MARVEL) #17 Near Mint/Mint
CAPTAIN MARVEL GIANT-SIZE (1975) #1 Very Good
CHAMPIONS (1975) (#1-17) (MARVEL) #1 Very Good

CHAMPIONS (1975) (#1-17) (MARVEL) #2
CHAMPIONS (1975) (#1-17) (MARVEL) #2 Very Good
CHAMPIONS (1975) (#1-17) (MARVEL) #3 Very Good
CHAMPIONS (1975) (#1-17) (MARVEL) #4 Very Good
CHAMPIONS (1975) (#1-17) (MARVEL) #5 Very Good
CHAMPIONS (1975) (#1-17) (MARVEL) #7 Very Good
CHAMPIONS (1975) (#1-17) (MARVEL) #8 Very Good
CHAMPIONS (1975) (#1-17) (MARVEL) #10 Fine
CIVIL WAR (2006) (#1-7) #1 Fine
CIVIL WAR (2006) (#1-7) #2 Fine
CIVIL WAR (2006) (#1-7) #3 Fine
CIVIL WAR (2006) (#1-7) #4 Near Mint/Mint
CIVIL WAR (2006) (#1-7) #5 Near Mint/Mint
CIVIL WAR (2006) (#1-7) #6 Near Mint/Mint
CIVIL WAR (2006) (#1-7) #7 Fine
CIVIL WAR CHRONICLES (2007) #1 Near Mint/Mint
CIVIL WAR II (2016) #4 CHO Near Mint/Mint
CIVIL WAR II (2016) #4 CHO Very Fine
CIVIL WAR: CASUALTIES OF WAR COLLECTED EDITION (2006) #1 Fine
CIVIL WAR: THE RETURN (2006) #1 Near Mint/Mint
CONAN (1970) (#1-275) (CONAN THE BARBARIAN) (MARVEL) #58 Very Good
CONAN (1970) (#1-275) (CONAN THE BARBARIAN) (MARVEL) #59 Fine
CREW (2003) #1 Near Mint/Mint
CRYPT OF SHADOWS (1973) (#1-21) (MARVEL) #16 Very Good
DAREDEVIL (1964) (#1-380) (MAN WITHOUT FEAR) (MARVEL) #43 Very Good
DAREDEVIL (1964) (#1-380) (MAN WITHOUT FEAR) (MARVEL) #88 Good
DAREDEVIL (1964) (#1-380) (MAN WITHOUT FEAR) (MARVEL) #118 Very Good
DAREDEVIL (1964) (#1-380) (MAN WITHOUT FEAR) (MARVEL) #147 Very Good
DAREDEVIL (1964) (#1-380) (MAN WITHOUT FEAR) (MARVEL) #148 Very Good
DAREDEVIL (1964) (#1-380) (MAN WITHOUT FEAR) (MARVEL) #155 Very Good
DAREDEVIL (1964) (#1-380) (MAN WITHOUT FEAR) (MARVEL) #157 Fine
DAREDEVIL (1964) (#1-380) (MAN WITHOUT FEAR) (MARVEL) #158 Fine
DAREDEVIL (1964) (#1-380) (MAN WITHOUT FEAR) (MARVEL) #159 NEWSSTAND Fine
DAREDEVIL (1964) (#1-380) (MAN WITHOUT FEAR) (MARVEL) #160 NEWSSTAND Very Good
DAREDEVIL (1964) (#1-380) (MAN WITHOUT FEAR) (MARVEL) #161 NEWSSTAND Fine
DAREDEVIL (1964) (#1-380) (MAN WITHOUT FEAR) (MARVEL) #162 NEWSSTAND Very Good
DAREDEVIL (1964) (#1-380) (MAN WITHOUT FEAR) (MARVEL) #163 NEWSSTAND Fine
DAREDEVIL (1964) (#1-380) (MAN WITHOUT FEAR) (MARVEL) #164 NEWSSTAND Fine
DAREDEVIL (1964) (#1-380) (MAN WITHOUT FEAR) (MARVEL) #165 NEWSSTAND Very Good
DAREDEVIL (1964) (#1-380) (MAN WITHOUT FEAR) (MARVEL) #166 NEWSSTAND Very Good
DAREDEVIL (1964) (#1-380) (MAN WITHOUT FEAR) (MARVEL) #167 NEWSSTAND Very Good
DAREDEVIL (1964) (#1-380) (MAN WITHOUT FEAR) (MARVEL) #168 NEWSSTAND Fine
DAREDEVIL (1964) (#1-380) (MAN WITHOUT FEAR) (MARVEL) #180 Fine
DAREDEVIL (1964) (#1-380) (MAN WITHOUT FEAR) (MARVEL) #180 NEWSSTAND Fine
DAREDEVIL (1964) (#1-380) (MAN WITHOUT FEAR) (MARVEL) #181 NEWSSTAND Fine
DAREDEVIL (1964) (#1-380) (MAN WITHOUT FEAR) (MARVEL) #182 NEWSSTAND Fine
DAREDEVIL (1964) (#1-380) (MAN WITHOUT FEAR) (MARVEL) #183 Very Good

DAREDEVIL (1964) (#1-380) (MAN WITHOUT FEAR) (MARVEL) #189
DAREDEVIL (1964) (#1-380) (MAN WITHOUT FEAR) (MARVEL) #189 Near Mint/Mint
DAREDEVIL (1964) (#1-380) (MAN WITHOUT FEAR) (MARVEL) #236 Near Mint/Mint
DAREDEVIL (1964) (#1-380) (MAN WITHOUT FEAR) (MARVEL) #249 NEWSSTAND Very Good
DAREDEVIL (1964) (#1-380) (MAN WITHOUT FEAR) (MARVEL) #254 NEWSSTAND Very Good
DAREDEVIL (1964) (#1-380) (MAN WITHOUT FEAR) (MARVEL) #255 NEWSSTAND Fine
DAREDEVIL (1964) (#1-380) (MAN WITHOUT FEAR) (MARVEL) #256 NEWSSTAND Fine
DAREDEVIL (1964) (#1-380) (MAN WITHOUT FEAR) (MARVEL) #257 NEWSSTAND Very Good
DAREDEVIL (1964) (#1-380) (MAN WITHOUT FEAR) (MARVEL) #270 NEWSSTAND Fine
DAREDEVIL (1998) (#1-119, 500-512) (MARVEL) #1 Fine
DAREDEVIL (1998) (#1-119, 500-512) (MARVEL) #2 VARIANT Very Fine
DAREDEVIL (1998) (#1-119, 500-512) (MARVEL) #3 Near Mint/Mint
DAREDEVIL (1998) (#1-119, 500-512) (MARVEL) #5 Near Mint/Mint
DAREDEVIL (1998) (#1-119, 500-512) (MARVEL) #8 Near Mint/Mint
DAREDEVIL (1998) (#1-119, 500-512) (MARVEL) #9 Very Fine
DAREDEVIL (1998) (#1-119, 500-512) (MARVEL) #100 TURNER Near Mint/Mint
DAREDEVIL (1998) (#1-119, 500-512) (MARVEL) #111 VARIANT Very Fine
DAREDEVIL (1998) (#1-119, 500-512) (MARVEL) #112 Near Mint/Mint
DAREDEVIL (1998) (#1-119, 500-512) (MARVEL) #500 VARIANT Fine
DAREDEVIL: MAN WITHOUT FEAR (1993) #1 Near Mint/Mint
DAREDEVIL: MAN WITHOUT FEAR (1993) #3 Near Mint/Mint
DAREDEVIL: MAN WITHOUT FEAR (1993) #5 Near Mint/Mint
DARK AVENGERS (2009) #1 Very Fine
DARK AVENGERS (2009) #2 Near Mint/Mint

DEADPOOL (1997) (#0-69) (MARVEL) #0
DEADPOOL (1997) (#0-69) (MARVEL) #0 Near Mint/Mint
DEADPOOL (2008) (#1-63, 900, 1000) (MARVEL) #10 Fine
DEADPOOL (2008) (#1-63, 900, 1000) (MARVEL) #11 Near Mint/Mint
DEADPOOL (2008) (#1-63, 900, 1000) (MARVEL) #16 Near Mint/Mint
DEADPOOL: MERC WITH A MOUTH (2009) #2 Very Fine
DEFENDERS (1972) (#1-152) (MARVEL) #5 Fair
DEFENDERS (1972) (#1-152) (MARVEL) #9 Fine
DEFENDERS (1972) (#1-152) (MARVEL) #10 Very Fine
DEFENDERS (1972) (#1-152) (MARVEL) #11 Very Good
DEFENDERS (1972) (#1-152) (MARVEL) #12 Fine
DEFENDERS (1972) (#1-152) (MARVEL) #13 Fine
DEFENDERS (1972) (#1-152) (MARVEL) #14 Fine
DEFENDERS (1972) (#1-152) (MARVEL) #26 Very Good
DEFENDERS (1972) (#1-152) (MARVEL) #27 Very Good
DEFENDERS (1972) (#1-152) (MARVEL) #28 Very Good
DEFENDERS (1972) (#1-152) (MARVEL) #93 NEWSSTAND Very Fine
DEFENDERS (1972) (#1-152) (MARVEL) #94 NEWSSTAND Good
DEFENDERS (1972) (#1-152) (MARVEL) #99 NEWSSTAND Good
DEFENDERS (1972) (#1-152) (MARVEL) #100 NEWSSTAND Good
DOCTOR STRANGE (1974) (#1-81) (MARVEL) (DR. STRANGE) #15 Very Good
DOCTOR STRANGE (1988) (#1-90) (MARVEL) (DR. STRANGE) #15 NEWSSTAND Near Mint/Mint

DOCTOR STRANGE (1988) (#1-90) (MARVEL) (DR. STRANGE) #44
DOCTOR STRANGE (1988) (#1-90) (MARVEL) (DR. STRANGE) #44 Fine
DREADSTAR (1982) (#1-26) (MARVEL/EPIC) #5 Near Mint/Mint
GHOST RIDER 2099 (1994) #17 Near Mint/Mint
GUNHAWKS (1972) (#1-7) (MARVEL) #1 Fine
HULK (1962) (#1-6, #102-474, #600-635)(INCREDIBLE)(MV) #378 Near Mint/Mint
HULK (1962) (#1-6, #102-474, #600-635)(INCREDIBLE)(MV) #444 1.50 COVER Very Fine
HULK (1962) (#1-6, #102-474, #600-635)(INCREDIBLE)(MV) #601 70TH ANN Near Mint/Mint
HULK (1999) (#1-112) (MARVEL) #91 Near Mint/Mint
HULK (1999) (#1-112) (MARVEL) #92 Near Mint/Mint
HULK (1999) (#1-112) (MARVEL) #93 Very Fine
HULK (1999) (#1-112) (MARVEL) #94 Near Mint/Mint
HULK (1999) (#1-112) (MARVEL) #95 Near Mint/Mint
HULK (1999) (#1-112) (MARVEL) #96 Near Mint/Mint
HULK (1999) (#1-112) (MARVEL) #97 Very Fine
HULK (1999) (#1-112) (MARVEL) #99 Fine
HULK (1999) (#1-112) (MARVEL) #100 Near Mint/Mint
HULK (1999) (#1-112) (MARVEL) #101 Fine
HULK (1999) (#1-112) (MARVEL) #102 Fine
HULK (1999) (#1-112) (MARVEL) #103 Fine
HULK (2008) (#1-57) (RED HULK) (MARVEL) #2 Near Mint/Mint

HULK (2008) (#1-57) (RED HULK) (MARVEL) #4
HULK (2008) (#1-57) (RED HULK) (MARVEL) #4 Near Mint/Mint
HULK (2008) (#1-57) (RED HULK) (MARVEL) #5 Very Fine
HULK (2008) (#1-57) (RED HULK) (MARVEL) #10 Near Mint/Mint
HULK (2008) (#1-57) (RED HULK) (MARVEL) #12 VARIANT Near Mint/Mint
HULK (2008) (#1-57) (RED HULK) (MARVEL) #15 Near Mint/Mint
HULK VS. SUPERMAN (1999) #1 Near Mint/Mint
HUMAN TORCH (1974) #2 Very Good
HUMAN TORCH (1974) #8 Very Good
INFINITY CRUSADE (1993) #3 Near Mint/Mint
INFINITY CRUSADE (1993) #4 Near Mint/Mint
INFINITY CRUSADE (1993) #5 Near Mint/Mint
INFINITY GAUNTLET (1991) #1 Near Mint/Mint
INFINITY GAUNTLET (1991) #1 Fine
INFINITY GAUNTLET (1991) #2 Fine
INFINITY GAUNTLET (1991) #3 Near Mint/Mint
INFINITY GAUNTLET (1991) #4 Near Mint/Mint
INFINITY GAUNTLET (1991) #5 Near Mint/Mint
INFINITY GAUNTLET (1991) #6 Near Mint/Mint
INFINITY WAR (1992) #1 Near Mint/Mint
INFINITY WAR (1992) #2 Fine

INHUMANS (1975) (#1-12) (MARVEL) #1
INHUMANS (1975) (#1-12) (MARVEL) #1 Very Good
INHUMANS (1975) (#1-12) (MARVEL) #2 Very Good
INHUMANS (1998) (#1-12) (MARVEL KNIGHTS) #1 Fine
INHUMANS (1998) (#1-12) (MARVEL KNIGHTS) #2 VARIANT Very Fine
INHUMANS (1998) (#1-12) (MARVEL KNIGHTS) #3 Near Mint/Mint
INHUMANS (1998) (#1-12) (MARVEL KNIGHTS) #4 Near Mint/Mint
INHUMANS (1998) (#1-12) (MARVEL KNIGHTS) #5 Near Mint/Mint
IRON MAN (1968) (#1-332) (INVINCIBLE IRON MAN)(MARVEL) #168 NEWSSTAND Fine
IRON MAN (1968) (#1-332) (INVINCIBLE IRON MAN)(MARVEL) #169 NEWSSTAND Very Good
IRON MAN (1968) (#1-332) (INVINCIBLE IRON MAN)(MARVEL) #170 NEWSSTAND Fine
IRON MAN (1968) (#1-332) (INVINCIBLE IRON MAN)(MARVEL) #172 NEWSSTAND Very Fine
IRON MAN (1968) (#1-332) (INVINCIBLE IRON MAN)(MARVEL) #173 NEWSSTAND Very Good
IRON MAN (1968) (#1-332) (INVINCIBLE IRON MAN)(MARVEL) #174 NEWSSTAND Fine
IRON MAN (1968) (#1-332) (INVINCIBLE IRON MAN)(MARVEL) #175 NEWSSTAND Very Good
IRON MAN (1968) (#1-332) (INVINCIBLE IRON MAN)(MARVEL) #176 NEWSSTAND Fine
IRON MAN (1968) (#1-332) (INVINCIBLE IRON MAN)(MARVEL) #177 NEWSSTAND Fine
IRON MAN (1968) (#1-332) (INVINCIBLE IRON MAN)(MARVEL) #178 NEWSSTAND Fine
IRON MAN (1968) (#1-332) (INVINCIBLE IRON MAN)(MARVEL) #181 NEWSSTAND Fine
IRON MAN (1968) (#1-332) (INVINCIBLE IRON MAN)(MARVEL) #183 NEWSSTAND Fine
IRON MAN (1968) (#1-332) (INVINCIBLE IRON MAN)(MARVEL) #184 NEWSSTAND Fine
IRON MAN (1968) (#1-332) (INVINCIBLE IRON MAN)(MARVEL) #304 Very Fine
IRON MAN (1968) (#1-332) (INVINCIBLE IRON MAN)(MARVEL) #305 Near Mint/Mint
IRON MAN/CAPTAIN AMERICA: CASUALTIES OF WAR (2006) #1 CAPTAIN Near Mint/Mint

JUNGLE ACTION (1972) (#1-24) (MARVEL) #1
JUNGLE ACTION (1972) (#1-24) (MARVEL) #1 Very Good
JUNGLE ACTION (1972) (#1-24) (MARVEL) #2 Very Good
JUNGLE ACTION (1972) (#1-24) (MARVEL) #18 Very Good
KA-ZAR (1974) (#1-20) (MARVEL) #1 Fine
KID COLT (1962) (#103-229) (MARVEL) #152 Very Good
KID COLT (1962) (#103-229) (MARVEL) #159 Fine
KID COLT (1962) (#103-229) (MARVEL) #163 Fine
KID COLT (1962) (#103-229) (MARVEL) #164 Very Good
KID COLT (1962) (#103-229) (MARVEL) #165 Fine
KID COLT (1962) (#103-229) (MARVEL) #169 Fine
KID COLT GIANT-SIZE (1975) #1 Good
KULL THE CONQUEROR (1971) (#1-29) (MARVEL) #4 Fine
MAN-THING (1974) (#1-22) (MARVEL) #5 Very Good
MAN-THING (1974) (#1-22) (MARVEL) #7 Very Good
MAN-THING (1974) (#1-22) (MARVEL) #8 Good
MAN-THING (1974) (#1-22) (MARVEL) #9 Good
MAN-THING (1974) (#1-22) (MARVEL) #10 Fine
MAN-THING (1974) (#1-22) (MARVEL) #17 Very Good
MAN-THING (1974) (#1-22) (MARVEL) #19 Very Good
MAN-THING (1974) (#1-22) (MARVEL) #20 Very Good
MAN-THING (1974) (#1-22) (MARVEL) #21 Good

MAN-THING (1974) (#1-22) (MARVEL) #22
MAN-THING (1974) (#1-22) (MARVEL) #22 Good
MARVEL COMICS PRESENTS (1988) (#1-175) (MARVEL) #72 Fine
MARVEL COMICS PRESENTS (1988) (#1-175) (MARVEL) #73 Near Mint/Mint
MARVEL COMICS PRESENTS (1988) (#1-175) (MARVEL) #74 Very Fine
MARVEL COMICS PRESENTS (1988) (#1-175) (MARVEL) #75 Near Mint/Mint
MARVEL COMICS PRESENTS (1988) (#1-175) (MARVEL) #78 Near Mint/Mint
MARVEL TALES (1964) (#1-291) #29 Fine
MIGHTY MARVEL WESTERN (1968) #18 Fine
MIGHTY MARVEL WESTERN (1968) #19 Fine
MIGHTY MARVEL WESTERN (1968) #21 Fine
MIGHTY MARVEL WESTERN (1968) #22 Very Good
MIGHTY MARVEL WESTERN (1968) #23 Very Fine
MOON KNIGHT (1989) (#1-60) (MARVEL) (MARC SPECTOR) #11 NEWSSTAND Near Mint/Mint
MOON KNIGHT (1989) (#1-60) (MARVEL) (MARC SPECTOR) #12 NEWSSTAND Near Mint/Mint
MOON KNIGHT (1989) (#1-60) (MARVEL) (MARC SPECTOR) #13 NEWSSTAND Near Mint/Mint
MOON KNIGHT (1989) (#1-60) (MARVEL) (MARC SPECTOR) #15 NEWSSTAND Near Mint/Mint
MOON KNIGHT (1989) (#1-60) (MARVEL) (MARC SPECTOR) #16 NEWSSTAND Near Mint/Mint
MOON KNIGHT (1989) (#1-60) (MARVEL) (MARC SPECTOR) #17 NEWSSTAND Near Mint/Mint
MOON KNIGHT (1989) (#1-60) (MARVEL) (MARC SPECTOR) #18 NEWSSTAND Near Mint/Mint
MOON KNIGHT (1989) (#1-60) (MARVEL) (MARC SPECTOR) #21 NEWSINSERT Near Mint/Mint
MOON KNIGHT (1989) (#1-60) (MARVEL) (MARC SPECTOR) #22 NEWSSTAND Near Mint/Mint
NORTHSTAR (1994) #4 Very Fine
OUTLAW KID (1970) #10 Fine
OUTLAW KID (1970) #11 Fine
OUTLAW KID (1970) #12 Very Good
OUTLAW KID (1970) #13 Very Good
OUTLAW KID (1970) #14 Fine
RAWHIDE KID (1955) (#1-151) (MARVEL) #81 Good
RAWHIDE KID (1955) (#1-151) (MARVEL) #86 Fine
RAWHIDE KID (1955) (#1-151) (MARVEL) #95 Very Good
RAWHIDE KID (1955) (#1-151) (MARVEL) #99 Fine
RAWHIDE KID (1955) (#1-151) (MARVEL) #101 Fine
RAWHIDE KID (1955) (#1-151) (MARVEL) #104 Fine
RAWHIDE KID (1955) (#1-151) (MARVEL) #105 Fine
RAWHIDE KID (1955) (#1-151) (MARVEL) #107 Fine
RAWHIDE KID (1955) (#1-151) (MARVEL) #108 Fine
RAWHIDE KID (1955) (#1-151) (MARVEL) #109 Fine
RAWHIDE KID (1955) (#1-151) (MARVEL) #110 Very Good
RAWHIDE KID (1955) (#1-151) (MARVEL) #116 Fine
RAWHIDE KID (1955) (#1-151) (MARVEL) #118 Fine
RAWHIDE KID (1955) (#1-151) (MARVEL) #120 Very Good
RED WOLF (1972) (#1-9) (MARVEL) #1 Very Good
RED WOLF (1972) (#1-9) (MARVEL) #2 Very Good
RED WOLF (1972) (#1-9) (MARVEL) #3 Very Good
RINGO KID (1970) #14 Fine
RINGO KID (1970) #17 Very Good
ROBOCOP (1990) (#1-23) (MARVEL) #18 NEWSSTAND Near Mint/Mint

ROGUE (1994) (#1-4) (MARVEL) #4
ROGUE (1994) (#1-4) (MARVEL) #4 Near Mint/Mint
SGT. FURY AND HIS HOWLING COMMANDOS (1963) #94 Very Good
SGT. FURY AND HIS HOWLING COMMANDOS (1963) #96 Very Good
SGT. FURY AND HIS HOWLING COMMANDOS (1963) #97 Very Good
SGT. FURY AND HIS HOWLING COMMANDOS (1963) #100 Very Good
SGT. FURY AND HIS HOWLING COMMANDOS (1963) #107 Fine
SHADOWS & LIGHT (HULK,IRON MAN,BLACK WIDOW,DAREDEVIL) (1997) #1 Near Mint/Mint
SHANG CHI: MASTER OF KUNG FU (2002) #1 Near Mint/Mint
SHANNA THE SHE-DEVIL (1972) (#1-5) (MARVEL) #1 Fine
SHANNA THE SHE-DEVIL (1972) (#1-5) (MARVEL) #3 Fine
SHE-HULK (1989) (#1-60) (SENSATIONAL SHE-HULK)(MARVEL) #6 Near Mint/Mint
SLEEPWALKER (1991) #2 NEWSSTAND Near Mint/Mint
SLEEPWALKER (1991) #3 NEWSSTAND Near Mint/Mint
SLEEPWALKER (1991) #4 NEWSSTAND Near Mint/Mint
SLEEPWALKER (1991) #5 NEWSSTAND Near Mint/Mint
SLEEPWALKER (1991) #6 NEWSSTAND Near Mint/Mint
SOLO AVENGERS (AVENGERS SPOTLIGHT #21-40) (1987) #1 Near Mint/Mint
SOLO AVENGERS (AVENGERS SPOTLIGHT #21-40) (1987) #12 Near Mint/Mint
SPECIAL MARVEL EDITION #9 Fine

SPIDER-MAN (1963) (AMAZING SPIDER-MAN) (#1-441) #55
SPIDER-MAN (1963) (AMAZING SPIDER-MAN) (#1-441) #55 Very Good
SPIDER-MAN (1963) (AMAZING SPIDER-MAN) (#1-441) #65 Very Good
SPIDER-MAN (1963) (AMAZING SPIDER-MAN) (#1-441) #88 Good
SPIDER-MAN (1963) (AMAZING SPIDER-MAN) (#1-441) #89 Good
SPIDER-MAN (1990) (#1-74, PETER PARKER SPIDEY #75-98) #1 SILVER Near Mint/Mint
SPIDER-MAN ANNUAL (1964) (#1-28) (MARVEL) #7 Good
SUB-MARINER (1968) (#1-72) (PRINCE NAMOR SUB-MARINER) #40 Very Good
SUPERNATURAL THRILLERS (1972) #2 Very Good
TEX DAWSON GUN-SLINGER (1973) #1 Very Good
THOR (1962) (#83-125 JOURNEY INTO MYSTERY, 126-502) #165 Good
THOR (1962) (#83-125 JOURNEY INTO MYSTERY, 126-502) #360 Near Mint/Mint
THOR (1962) (#83-125 JOURNEY INTO MYSTERY, 126-502) #364 Near Mint/Mint
THOR (1962) (#83-125 JOURNEY INTO MYSTERY, 126-502) #368 Near Mint/Mint
THOR (1962) (#83-125 JOURNEY INTO MYSTERY, 126-502) #371 Near Mint/Mint
THOR (1962) (#83-125 JOURNEY INTO MYSTERY, 126-502) #372 Near Mint/Mint
THOR (1962) (#83-125 JOURNEY INTO MYSTERY, 126-502) #377 Near Mint/Mint
TWO-GUN KID (1948) #98 Very Good
TWO-GUN KID (1948) #99 Very Good
TWO-GUN KID (1948) #104 Fine
WEREWOLF BY NIGHT (1972) #28 Fine
WEREWOLF BY NIGHT (1972) #29 Very Good
WEREWOLF BY NIGHT (1972) #30 Very Good
WEREWOLF BY NIGHT (1972) #31 Very Good
WEREWOLF BY NIGHT (1972) #32 Very Good
WEREWOLF BY NIGHT (1972) #33 Very Good
WEREWOLF BY NIGHT (1972) #34 Fine
WEREWOLF BY NIGHT (1972) #35 Fine
WEREWOLF BY NIGHT (1972) #36 Fine
WEREWOLF BY NIGHT (1972) #37 Fine
WILLOW GN #1 Near Mint/Mint
X-STATIX (2002) #1 Near Mint/Mint
X-STATIX (2002) #5 Near Mint/Mint
X-STATIX (2002) #6 Near Mint/Mint
X-STATIX (2002) #8 Near Mint/Mint
DC
ACTION COMICS (1938) (#0-600, 643-904) (DC) #665 Near Mint/Mint
ACTION COMICS (1938) (#0-600, 643-904) (DC) #831 Near Mint/Mint
ALL-STAR WESTERN (1970) (#1-11) (DC) #10 Very Good
ALL-STAR WESTERN (1970) (#1-11) (DC) #11 Fine
AQUAMAN SPECIAL (1988) #1 Near Mint/Mint
ARAK (SON OF THUNDER) (DC) (1981) #1 Near Mint/Mint
ARAK (SON OF THUNDER) (DC) (1981) #2 Near Mint/Mint
ARAK (SON OF THUNDER) (DC) (1981) #3 Near Mint/Mint
ARAK (SON OF THUNDER) (DC) (1981) #6 Near Mint/Mint
ARAK (SON OF THUNDER) (DC) (1981) #7 Near Mint/Mint
ARAK (SON OF THUNDER) (DC) (1981) #8 Near Mint/Mint
ARAK (SON OF THUNDER) (DC) (1981) #11 Near Mint/Mint
ARAK (SON OF THUNDER) (DC) (1981) #14 Near Mint/Mint
ARAK (SON OF THUNDER) (DC) (1981) #16 Near Mint/Mint
ARAK (SON OF THUNDER) (DC) (1981) #21 Near Mint/Mint
ARAK (SON OF THUNDER) (DC) (1981) #24 Near Mint/Mint
ARAK (SON OF THUNDER) (DC) (1981) #31 Near Mint/Mint
ARCANA ANNUAL (BOOKS OF MAGIC) (DC VERTIGO) (1994) #1 (DC: Vertigo Press) Near Mint/Mint
ARION (LORD OF ATLANTIS) (DC) (1982) #17 Near Mint/Mint
ARKHAM REBORN (2009) #2 Near Mint/Mint
ATLANTIS CHRONICLES (DC) (AQUAMAN) (PETER DAVID) (1990) #2 Near Mint/Mint
AUTHORITY (DC WILDSTORM) (#1-12 ELLIS, #13-29 MILLAR) (1999) #19 (DC/Wildstorm) Near Mint/Mint
BATMAN AND THE OUTSIDERS (1983) (#1-32) (DC) #2 Near Mint/Mint
BATMAN AND THE OUTSIDERS (1983) (#1-32) (DC) #19 Near Mint/Mint

BATMAN VS. PREDATOR II: BLOODMATCH (1994) #1
BATMAN VS. PREDATOR II: BLOODMATCH (1994) #1 Near Mint/Mint
BATMAN: GOTHAM COUNTY LINE (STEVE NILES)(SCOTT HAMPTON) (2005) #1 Near Mint/Mint
BATMAN: ODYSSEY (NEAL ADAMS) (2010) #3 Near Mint/Mint
BEFORE WATCHMEN: MINUTEMEN (2012) #5 Near Mint/Mint
BIRDS OF PREY (1999) (#1-127) (DC) #124 Near Mint/Mint
BIRDS OF PREY (2010) (#1-15) (DC) #15 Near Mint/Mint
BIRDS OF PREY: FUTURE'S END (2014) #1 LENTICULAR Near Mint/Mint
BLACK HOOD (1991) (#1-12) (DC/IMPACT) #1 (DC: Impact Comics) Near Mint/Mint
BLUE BEETLE (1986) (#1-24) (DC) #11 Near Mint/Mint
BRAVE AND THE BOLD (2006) #2 Near Mint/Mint
BRAVE AND THE BOLD (2006) #3 Near Mint/Mint
BRAVE AND THE BOLD (2006) #4 Near Mint/Mint
BRAVE AND THE BOLD (2006) #25 Near Mint/Mint
CRISIS ON INFINITE EARTHS (1985) #4 Near Mint/Mint
DEATH: HIGH COST OF LIVING #2 (DC: Vertigo Press) Near Mint/Mint
DEATH: HIGH COST OF LIVING #3 MIS-PRINT (DC: Vertigo Press) Near Mint/Mint

DEATH: THE TIME OF YOUR LIFE (1996) #1
DEATH: THE TIME OF YOUR LIFE (1996) #1 (DC: Vertigo Press) Near Mint/Mint
DEATH: THE TIME OF YOUR LIFE (1996) #2 (DC: Vertigo Press) Near Mint/Mint
DEATHSTROKE: THE TERMINATOR (1991) #9 Near Mint/Mint
DEATHSTROKE: THE TERMINATOR (1991) #10 Near Mint/Mint
DEATHSTROKE: THE TERMINATOR (1991) #15 Near Mint/Mint
DESTINY: A CHRONICLE OF DEATHS FORETOLD (1997) #1 (DC: Vertigo Press) Near Mint/Mint
DESTINY: A CHRONICLE OF DEATHS FORETOLD (1997) #2 (DC: Vertigo Press) Very Fine
DESTINY: A CHRONICLE OF DEATHS FORETOLD (1997) #3 (DC: Vertigo Press) Near Mint/Mint
GI COMBAT (1957) (#44-288) (DC) #111 Fair
GI COMBAT (1957) (#44-288) (DC) #113 Fair
GI COMBAT (1957) (#44-288) (DC) #114 Very Good
GI COMBAT (1957) (#44-288) (DC) #115 Fair
GI COMBAT (1957) (#44-288) (DC) #117 Very Good
GI COMBAT (1957) (#44-288) (DC) #120 Fair
GI COMBAT (1957) (#44-288) (DC) #120 Very Good
GI COMBAT (1957) (#44-288) (DC) #121 Fair
GI COMBAT (1957) (#44-288) (DC) #121 Very Good
GI COMBAT (1957) (#44-288) (DC) #122 Very Good
GI COMBAT (1957) (#44-288) (DC) #123 Very Good
GI COMBAT (1957) (#44-288) (DC) #124 Very Good
GI COMBAT (1957) (#44-288) (DC) #125 Very Good
GI COMBAT (1957) (#44-288) (DC) #127 Very Good
GI COMBAT (1957) (#44-288) (DC) #128 Fine
GI COMBAT (1957) (#44-288) (DC) #132 Fine

GI COMBAT (1957) (#44-288) (DC) #137
GI COMBAT (1957) (#44-288) (DC) #137 Fine
GI COMBAT (1957) (#44-288) (DC) #139 Fine
GI COMBAT (1957) (#44-288) (DC) #142 Fine
GI COMBAT (1957) (#44-288) (DC) #154 Fine
GOTHAM BY GASLIGHT (A TALE OF THE BATMAN) (1989) #1 Near Mint/Mint
GREEN ARROW (1988) (#0-137) (DC) #100 DELUXE Very Fine
GREEN ARROW (1988) (#0-137) (DC) #101 Near Mint/Mint
GREEN ARROW (2001) (#1-75) (DC) #1 Near Mint/Mint
HOUSE OF MYSTERY (1951) #174 Very Good
HOUSE OF MYSTERY (1951) #208 Fine
OUR ARMY AT WAR (1952) #150 Good
OUR ARMY AT WAR (1952) #154 Good
OUR ARMY AT WAR (1952) #155 Good
OUR ARMY AT WAR (1952) #156 Fair
OUR ARMY AT WAR (1952) #158 Good
OUR ARMY AT WAR (1952) #159 Good
OUR ARMY AT WAR (1952) #160 Fair
OUR ARMY AT WAR (1952) #166 Very Good
OUR ARMY AT WAR (1952) #168 Very Good
OUR ARMY AT WAR (1952) #171 Fair
OUR ARMY AT WAR (1952) #172 Fair
OUR ARMY AT WAR (1952) #173 Fair
OUR ARMY AT WAR (1952) #174 Very Good
OUR ARMY AT WAR (1952) #175 Very Good
OUR ARMY AT WAR (1952) #176 Fair
OUR ARMY AT WAR (1952) #177 Good
OUR ARMY AT WAR (1952) #178 Good
OUR ARMY AT WAR (1952) #179 Good
OUR ARMY AT WAR (1952) #180 Very Good
OUR ARMY AT WAR (1952) #181 Fair
OUR ARMY AT WAR (1952) #182 Very Good
OUR ARMY AT WAR (1952) #183 Fair
OUR ARMY AT WAR (1952) #183 Very Good
OUR ARMY AT WAR (1952) #184 Fair
OUR ARMY AT WAR (1952) #185 Good
OUR ARMY AT WAR (1952) #186 Very Good
OUR ARMY AT WAR (1952) #190 Fine
OUR ARMY AT WAR (1952) #209 Very Good
OUR ARMY AT WAR (1952) #253 Fine
QUESTION (1986) #13 Near Mint/Mint
QUESTION (1986) #37 Near Mint/Mint
QUESTION ANNUAL (1988) #1 Near Mint/Mint
SANDMAN (1988) (#1-75) (DC/VERTIGO) #1 (DC: Vertigo Press) Near Mint/Mint
SANDMAN (1988) (#1-75) (DC/VERTIGO) #2 (DC: Vertigo Press) Near Mint/Mint
SANDMAN (1988) (#1-75) (DC/VERTIGO) #3 (DC: Vertigo Press) Near Mint/Mint
SANDMAN (1988) (#1-75) (DC/VERTIGO) #4 (DC: Vertigo Press) Near Mint/Mint
SANDMAN (1988) (#1-75) (DC/VERTIGO) #5 (DC: Vertigo Press) Near Mint/Mint

SANDMAN (1988) (#1-75) (DC/VERTIGO) #6
SANDMAN (1988) (#1-75) (DC/VERTIGO) #6 (DC: Vertigo Press) Near Mint/Mint
SANDMAN (1988) (#1-75) (DC/VERTIGO) #7 (DC: Vertigo Press) Fine
SANDMAN (1988) (#1-75) (DC/VERTIGO) #8 (DC: Vertigo Press) Near Mint/Mint
SANDMAN (1988) (#1-75) (DC/VERTIGO) #9 (DC: Vertigo Press) Near Mint/Mint
SANDMAN (1988) (#1-75) (DC/VERTIGO) #10 (DC: Vertigo Press) Near Mint/Mint
SANDMAN (1988) (#1-75) (DC/VERTIGO) #11 (DC: Vertigo Press) Near Mint/Mint
SANDMAN (1988) (#1-75) (DC/VERTIGO) #12 (DC: Vertigo Press) Near Mint/Mint
SANDMAN (1988) (#1-75) (DC/VERTIGO) #13 (DC: Vertigo Press) Near Mint/Mint
SANDMAN (1988) (#1-75) (DC/VERTIGO) #14 (DC: Vertigo Press) Very Fine
SANDMAN (1988) (#1-75) (DC/VERTIGO) #15 (DC: Vertigo Press) Near Mint/Mint
SANDMAN (1988) (#1-75) (DC/VERTIGO) #16 (DC: Vertigo Press) Near Mint/Mint
SANDMAN (1988) (#1-75) (DC/VERTIGO) #17 (DC: Vertigo Press) Near Mint/Mint
SANDMAN (1988) (#1-75) (DC/VERTIGO) #18 (DC: Vertigo Press) Very Fine
SANDMAN (1988) (#1-75) (DC/VERTIGO) #19 (DC: Vertigo Press) Very Fine
SANDMAN (1988) (#1-75) (DC/VERTIGO) #20 (DC: Vertigo Press) Near Mint/Mint
SANDMAN (1988) (#1-75) (DC/VERTIGO) #21 (DC: Vertigo Press) Near Mint/Mint
SANDMAN (1988) (#1-75) (DC/VERTIGO) #22 (DC: Vertigo Press) Very Fine
SANDMAN (1988) (#1-75) (DC/VERTIGO) #23 (DC: Vertigo Press) Near Mint/Mint
SANDMAN (1988) (#1-75) (DC/VERTIGO) #24 (DC: Vertigo Press) Near Mint/Mint
SANDMAN (1988) (#1-75) (DC/VERTIGO) #25 (DC: Vertigo Press) Near Mint/Mint
SANDMAN (1988) (#1-75) (DC/VERTIGO) #26 (DC: Vertigo Press) Very Fine
SANDMAN (1988) (#1-75) (DC/VERTIGO) #27 (DC: Vertigo Press) Very Fine
SANDMAN (1988) (#1-75) (DC/VERTIGO) #28 (DC: Vertigo Press) Near Mint/Mint
SANDMAN (1988) (#1-75) (DC/VERTIGO) #29 (DC: Vertigo Press) Very Fine
SANDMAN (1988) (#1-75) (DC/VERTIGO) #41 (DC: Vertigo Press) Very Fine
SANDMAN (1988) (#1-75) (DC/VERTIGO) #69 (DC: Vertigo Press) Very Fine

SANDMAN (1988) (#1-75) (DC/VERTIGO) #73
SANDMAN (1988) (#1-75) (DC/VERTIGO) #73 (DC: Vertigo Press) Very Fine
SANDMAN (1988) (#1-75) (DC/VERTIGO) #74 (DC: Vertigo Press) Near Mint/Mint
SANDMAN (1988) (#1-75) (DC/VERTIGO) #75 (DC: Vertigo Press) Near Mint/Mint
SANDMAN MIDNIGHT THEATRE (1995) #1 (DC: Vertigo Press) Fine
SANDMAN PRESENTS LUCIFER (1999) #1 (DC: Vertigo Press) Near Mint/Mint
SANDMAN PRESENTS LUCIFER (1999) #2 (DC: Vertigo Press) Near Mint/Mint
SANDMAN PRESENTS LUCIFER (1999) #3 (DC: Vertigo Press) Near Mint/Mint
SANDMAN PRESENTS PETREFAX (2000) #4 (DC: Vertigo Press) Near Mint/Mint
SANDMAN PRESENTS THE THESSALIAD (2002) #3 (DC: Vertigo Press) Near Mint/Mint
SANDMAN PRESENTS THE THESSALIAD (2002) #4 (DC: Vertigo Press) Near Mint/Mint
SANDMAN PRESENTS: BAST (2003) #1 (DC: Vertigo Press) Near Mint/Mint
SANDMAN PRESENTS: DEAD BOY DETECTIVES (2001) #1 (DC: Vertigo Press) Very Fine
SANDMAN PRESENTS: DEAD BOY DETECTIVES (2001) #4 (DC: Vertigo Press) Very Fine
SANDMAN PRESENTS: MERV PUMPKINHEAD – AGENT OF DREAM #1 (DC: Vertigo Press) Very Fine
SANDMAN PRESENTS: THE CORINTHIAN (2001) #1 (DC: Vertigo Press) Near Mint/Mint
SANDMAN PRESENTS: THESSALY-WITCH FOR HIRE (2004) #4 (DC: Vertigo Press) Very Fine
SEA DEVILS (1961) #30 Very Good

STAR SPANGLED WAR STORIES (1952) #122
STAR SPANGLED WAR STORIES (1952) #122 Very Good
STAR SPANGLED WAR STORIES (1952) #127 Very Good
STAR SPANGLED WAR STORIES (1952) #128 Very Good
STAR SPANGLED WAR STORIES (1952) #129 Good
STAR SPANGLED WAR STORIES (1952) #130 Very Good
STAR SPANGLED WAR STORIES (1952) #131 Very Good
STAR SPANGLED WAR STORIES (1952) #132 Very Good
STAR SPANGLED WAR STORIES (1952) #133 Very Good
STAR SPANGLED WAR STORIES (1952) #136 Fine
STAR SPANGLED WAR STORIES (1952) #136 Very Good
STAR SPANGLED WAR STORIES (1952) #139 Fine
STAR SPANGLED WAR STORIES (1952) #141 Fine
STAR SPANGLED WAR STORIES (1952) #146 Fine
STAR SPANGLED WAR STORIES (1952) #164 Fine
STAR SPANGLED WAR STORIES (1952) #165 Fine
STAR SPANGLED WAR STORIES (1952) #166 Fine
STAR SPANGLED WAR STORIES (1952) #176 Fine
STATIC (1993) #1 (DC: Milestone Press) Near Mint/Mint
SUPERMAN (1939) (#1-423) (DC) #199 Very Good
SWAMP THING, SAGA OF (1982) #84 (DC: Vertigo Press) Very Fine
TARZAN (1972) (#207-258) (DC) #211 Fine
TOMAHAWK (1950) #112 Very Good
TOMAHAWK (1950) #114 Very Good
TOMAHAWK (1950) #135 Very Good
VERTIGO: WINTER'S EDGE (1998) #2 (DC: Vertigo Press) Fine
DARK HORSE COMICS
BATMAN VS. PREDATOR (1991) #1 Near Mint/Mint
BATMAN VS. PREDATOR (1991) #1 Fine
BATMAN VS. PREDATOR (1991) #1 Very Fine
BATMAN VS. PREDATOR (1991) #2 Near Mint/Mint
BATMAN VS. PREDATOR (1991) #2 Very Fine
MADMAN COMICS (1994) #4 Near Mint/Mint
TERMINATOR (1990) (#1-4) (DARK HORSE) #2 Near Mint/Mint
IMAGE COMICS
AGE OF HEROES (1998) (#3-5) (IMAGE) #4 Near Mint/Mint
ARIA: A SUMMER SPELL (IMAGE) (2002) #1 Near Mint/Mint
ARIA: A SUMMER SPELL (IMAGE) (2002) #2 Near Mint/Mint
ARIA: SOUL MARKET (IMAGE) (2001) #3 Near Mint/Mint
ARIA: SOUL MARKET (IMAGE) (2001) #4 Near Mint/Mint

ARIA: USES OF ENCHANTMENT (IMAGE) (2003) #3
ARIA: USES OF ENCHANTMENT (IMAGE) (2003) #3 Near Mint/Mint
ARIA: USES OF ENCHANTMENT (IMAGE) (2003) #4 Near Mint/Mint
ARKAGA (IMAGE) (1997) #1 Near Mint/Mint
ASCENSION (IMAGE TOPCOW) (1997) #5 (Image Top Cow) Near Mint/Mint
ASCENSION (IMAGE TOPCOW) (1997) #6 (Image Top Cow) Near Mint/Mint
BLACK FLAG (1995) (#0-4) (MAXIMUM/IMAGE) #0 Near Mint/Mint
IXTH GENERATION (2014) #1 NEWYEAREVE Very Fine
INDEPENDENTS
AQUARIUM (CPM Comics) (MANGA) (2000) #2 (CPM Comics) Near Mint/Mint
AQUARIUM (CPM Comics) (MANGA) (2000) #3 (CPM Comics) Near Mint/Mint
AQUARIUM (CPM Comics) (MANGA) (2000) #6 (CPM Comics) Near Mint/Mint
ARAKNIS (1995) (#1-4) (MUSHROOM COMICS) #2 (Mushroom Comics) Near Mint/Mint
ARAKNIS (1995) (#1-4) (MUSHROOM COMICS) #3 (Mushroom Comics) Near Mint/Mint
ARKANIUM (DREAMWAVE) (2002) #4 (Dreamwave) Near Mint/Mint
ARKANIUM (DREAMWAVE) (2002) #5 (Dreamwave) Near Mint/Mint
ARMY ATTACK (VOL. 2) (CHARLTON) (1965) #44 (Charlton) Very Good

ARMY ATTACK (VOL. 2) (CHARLTON) (1965) #45
ARMY ATTACK (VOL. 2) (CHARLTON) (1965) #45 (Charlton) Very Good
ARMY ATTACK (VOL. 2) (CHARLTON) (1965) #46 (Charlton) Very Good
ARMY ATTACK (VOL. 2) (CHARLTON) (1965) #47 (Charlton) Very Good
ARMY WAR HEROES (1963) #14 (Charlton) Fine
ARMY WAR HEROES (1963) #15 (Charlton) Very Good
ARMY WAR HEROES (1963) #16 (Charlton) Very Good
ARMY WAR HEROES (1963) #17 (Charlton) Very Good
ARMY WAR HEROES (1963) #20 (Charlton) Very Good
ARMY WAR HEROES (1963) #21 (Charlton) Very Good
ATOMICOW (VISION COMM.) (1990) #1 (Vision Communications) Near Mint/Mint
ATOMIK ANGELS (CRUSADE) (1996) #3 TUCCI (Crusade) Near Mint/Mint
BAKER STREET (CALIBER PRESS) (1989) #6 (Caliber Press) Near Mint/Mint
BALLAD OF HALO JONES (QUALITY COMICS) (ALAN MOORE) (UK) (1987) #1 (Fleetway-Quality Comics) Near Mint/Mint
BETTIE PAGE IN DANGER (2012) #8 (Shh Productions) Near Mint/Mint
BETTY AND VERONICA (1950) #336 (Archie Comics) Very Fine
BIZARRE HEROES (1990) (#1) (KITCHEN SINK) #1 (Kitchen Sink Publishing) Near Mint/Mint
BLACK MAGIC (Eclipse Enterprises) #3 (Eclipse Enterprises) Near Mint/Mint

BLOODSHOT (1993) (0-51) (VALIANT) #0
BLOODSHOT (1993) (0-51) (VALIANT) #0 (Acclaim/Valiant) Near Mint/Mint
BLOODSHOT (1993) (0-51) (VALIANT) #1 (Acclaim/Valiant) Near Mint/Mint
BLOODSHOT (1993) (0-51) (VALIANT) #26 (Acclaim/Valiant) Near Mint/Mint
BLOODSHOT (1993) (0-51) (VALIANT) #31 (Acclaim/Valiant) Near Mint/Mint
BLOODSHOT (1993) (0-51) (VALIANT) #32 (Acclaim/Valiant) Near Mint/Mint
BLOODSHOT (1993) (0-51) (VALIANT) #35 (Acclaim/Valiant) Near Mint/Mint
BLOODSHOT (1993) (0-51) (VALIANT) #36 (Acclaim/Valiant) Near Mint/Mint
BLOODSHOT (1993) (0-51) (VALIANT) #38 (Acclaim/Valiant) Near Mint/Mint
BOFFO LAFFS (1986) #2 (Paragraphics) Near Mint/Mint
BONE (1991) (#1-55) (CARTOON BOOKS) #16 (Cartoon Books) Near Mint/Mint
BONE (1991) (#1-55) (CARTOON BOOKS) #19 (Cartoon Books) Near Mint/Mint
BOYS (2007) (#7-72) (DYNAMITE) #8 (DYNAMITE Entertainment) Near Mint/Mint
BOYS (2007) (#7-72) (DYNAMITE) #9 (DYNAMITE Entertainment) Near Mint/Mint
BOYS (2007) (#7-72) (DYNAMITE) #20 (DYNAMITE Entertainment) Near Mint/Mint
BOYS (2007) (#7-72) (DYNAMITE) #21 (DYNAMITE Entertainment) Near Mint/Mint
BOYS (2007) (#7-72) (DYNAMITE) #31 (DYNAMITE Entertainment) Near Mint/Mint
CAVEWOMAN: RAIN (1996) #7 (Caliber Press) Near Mint/Mint
CAVEWOMAN: THE RETURN (2015) #3 D (BASEMENT COMICS) Near Mint/Mint
DANGER DOLL SQUAD: GALACTIC GLADIATORS (2018) #1 H MENDORIS (Action Lab Entertainment) Near Mint/Mint
DANGER DOLL SQUAD: GALACTIC GLADIATORS (2018) #2 F MENDORIS (Action Lab Entertainment) Near Mint/Mint
DANGER DOLL SQUAD: GALACTIC GLADIATORS (2018) #3 E MENDOZA (Action Lab Entertainment) Near Mint/Mint
DOLLFACE (2017) #14 E MENDOZA (Action Lab Entertainment) Near Mint/Mint
DRAG 'N' WHEELS (1968) #30 (Charlton) Fine
DRAG 'N' WHEELS (1968) #31 (Charlton) Fine
DRAG 'N' WHEELS (1968) #32 (Charlton) Very Good
DRAG 'N' WHEELS (1968) #39 (Charlton) Fine
DRAG 'N' WHEELS (1968) #40 (Charlton) Fine
DRAGSTRIP HOTRODDERS (1963) #13 (Charlton) Very Good
DRAGSTRIP HOTRODDERS (1963) #14 (Charlton) Fine
DRAGSTRIP HOTRODDERS (1963) #15 (Charlton) Very Good
DRAGSTRIP HOTRODDERS (1963) #16 (Charlton) Fine
FIGHTIN' MARINES (1955) (#14-176) (CHARLTON) #64 (Charlton) Very Good
FIGHTIN' MARINES (1955) (#14-176) (CHARLTON) #69 (Charlton) Very Good
FIGHTIN' MARINES (1955) (#14-176) (CHARLTON) #71 (Charlton) Very Good
FIGHTIN' MARINES (1955) (#14-176) (CHARLTON) #73 (Charlton) Fine
FIGHTIN' MARINES (1955) (#14-176) (CHARLTON) #74 (Charlton) Very Good
FIGHTIN' MARINES (1955) (#14-176) (CHARLTON) #75 (Charlton) Very Good
FIGHTIN' MARINES (1955) (#14-176) (CHARLTON) #106 (Charlton) Fine
GIRL WHO WOULD BE DEATH (1998) #4 (DC: Vertigo Press) Near Mint/Mint
GO-GO (1966) #3 (Charlton) Very Good
GO-GO (1966) #6 (Charlton) Fine
GO-GO (1966) #7 (Charlton) Very Good
GO-GO (1966) #8 (Charlton) Fine
GRAND PRIX (1967) #16 (Charlton) Very Good
GRAND PRIX (1967) #17 (Charlton) Very Good
GRAND PRIX (1967) #19 (Charlton) Fine
GRAND PRIX (1967) #20 (Charlton) Very Good
GRAND PRIX (1967) #21 (Charlton) Fine
GRAND PRIX (1967) #22 (Charlton) Fine
GRAND PRIX (1967) #27 (Charlton) Fine
GRAND PRIX (1967) #29 (Charlton) Fine
HARBINGER (1992) #7 (Acclaim/Valiant) Near Mint/Mint
HARBINGER (1992) #8 (Acclaim/Valiant) Near Mint/Mint
HELLINA: RAVENING (2018) #2 (Avatar Comics) Near Mint/Mint
HOT ROD RACERS (1964) #13 (Charlton) Fine
HOT ROD RACERS (1964) #14 (Charlton) Fine
HOT ROD RACERS (1964) #15 (Charlton) Very Good
HOT RODS AND RACING CARS (1951) #77 (Charlton) Very Good
HOT RODS AND RACING CARS (1951) #84 (Charlton) Fine
HOT RODS AND RACING CARS (1951) #85 (Charlton) Fine
HOT RODS AND RACING CARS (1951) #86 (Charlton) Fine
HOT RODS AND RACING CARS (1951) #87 (Charlton) Very Good
HOT RODS AND RACING CARS (1951) #88 (Charlton) Fine
HOT RODS AND RACING CARS (1951) #89 (Charlton) Fine
HOT RODS AND RACING CARS (1951) #90 (Charlton) Fine
HOT RODS AND RACING CARS (1951) #91 (Charlton) Very Good
HOT RODS AND RACING CARS (1951) #92 (Charlton) Fine

HOT RODS AND RACING CARS (1951) #93
HOT RODS AND RACING CARS (1951) #93 (Charlton) Fine
HOT RODS AND RACING CARS (1951) #97 (Charlton) Very Good
HOT RODS AND RACING CARS (1951) #100 (Charlton) Fine
HOT RODS AND RACING CARS (1951) #101 (Charlton) Fine
LOST WORLD: JURASSIC PARK (1997) #3 PHOTO (Topps Publishing) Near Mint/Mint
LOST WORLD: JURASSIC PARK (1997) #4 (Topps Publishing) Near Mint/Mint
TAROT: WITCH OF THE BLACK ROSE (2000) #79 VARIANT (Broadsword Comics) Near Mint/Mint
TEENAGE HOTRODDERS (1963) #13 (Charlton) Good
TEENAGE HOTRODDERS (1963) #22 (Charlton) Good
TEENAGE HOTRODDERS (1963) #22 (Charlton) Very Good
TEENAGE HOTRODDERS (1963) #23 (Charlton) Fine
TEENAGE HOTRODDERS (1963) #24 (Charlton) Very Good
TOP ELIMINATOR (1967) #25 (Charlton) Fine
TOP ELIMINATOR (1967) #26 (Charlton) Fine
TOP ELIMINATOR (1967) #27 (Charlton) Fine
TOP ELIMINATOR (1967) #28 (Charlton) Fine
TOP ELIMINATOR (1967) #29 (Charlton) Fine
X-FARCE VS. X-CONS: X-TINCTION (1993) #1 (Parody Press) Very Fine
ZOMBIE TRAMP (2014) #51 E MENDOZA (Danger Zone) Near Mint/Mint
ZOMBIES VS. CHEERLEADERS (2010) (#1-7) (MOONSTONE) #3 D (Moonstone) Near Mint/Mint
To be unsubscribed from our e-mail newsletter, please send your request to moulton@milehighcomics.com
Mile High Comics, 4600 Jason Street, Denver CO 80211, USA